The new Craigslist Searchengine is here with new features and perfectly tuned searching.
Welcome to the latest and greatest version of the Craigslist Search Engine.
For the past two months, I have been redesigning the old Craigslist Search Engine web site. Not only is it a finely tuned, monster of a search engine, it is also sensitive to your needs, with a new look and many new features, I think you will be pleasantly surprised at just how cool the new Craigslist Search Engine is.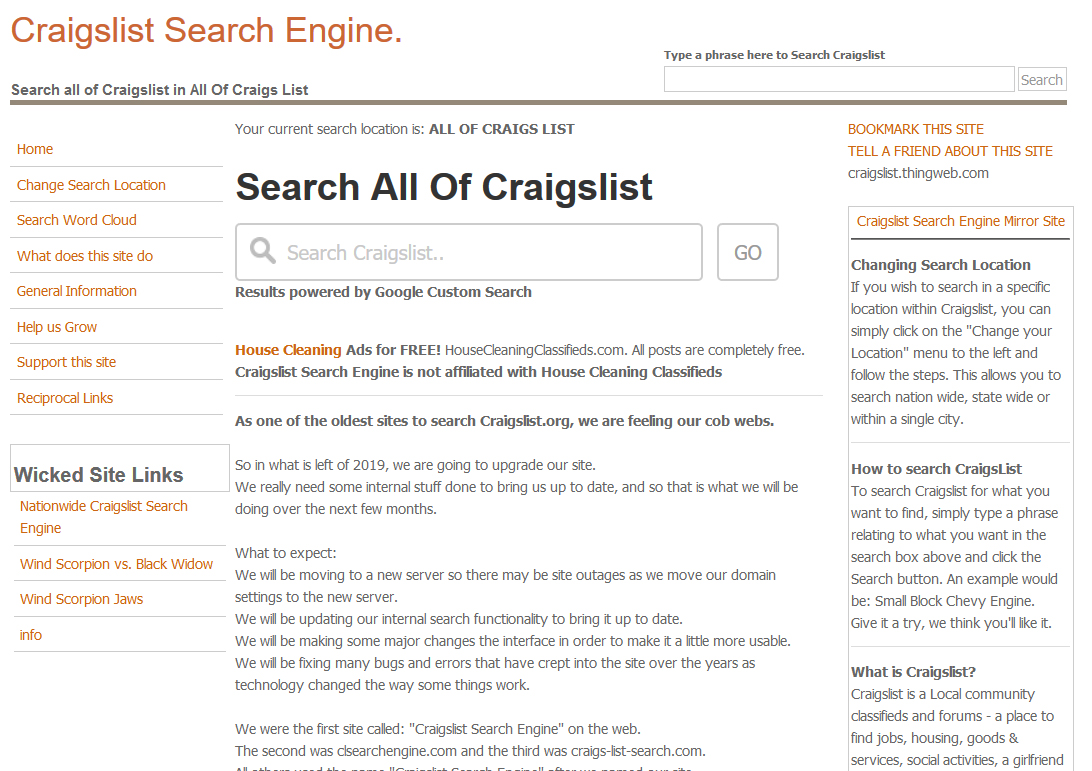 From early 2007 through September 2019, Craigslist Search Engine looked like this image.

Over the years, Google had made changes to the way it's custom search engine accepts data, this has caused the old Craigslist Searchengine to sort of gum up and stop working well, so I decided to recreate the web site and make it far better, stronger, faster than ever before.

I have completely recreated the search functionality that searches craigslist.org. The new state search returns results from the state you are in and does not include Craigslist listings from any other state.
The Craigslist Canadian Territory search works in exactly the same way.

Perfectly clean results with exceptionally few to no, Craigslist search pages in the listings. The nationwide search performs with the same precision over all states at the same time.

The new Craigslist Canada search, lets you search all of Canada or search only in the following Territories: Alberta, British Columbia, Manitoba, New Brunswick, Newfoundland And Labrador, Northwest Territories, Nova Scotia, Ontario, Prince Edward Island, Quebec, Saskatchewan, and the Yukon Territory


True "1 Click" Searching

The new Craigslist Search Engine carries your search phrase throughout the entire site, so you can jump from state to state and see your search results, you can also jump from the United States to Canada as well as all of the Canadian Territories.

One click searching makes life so much easier, you never have to retype your search phrase again just because you changed your search location.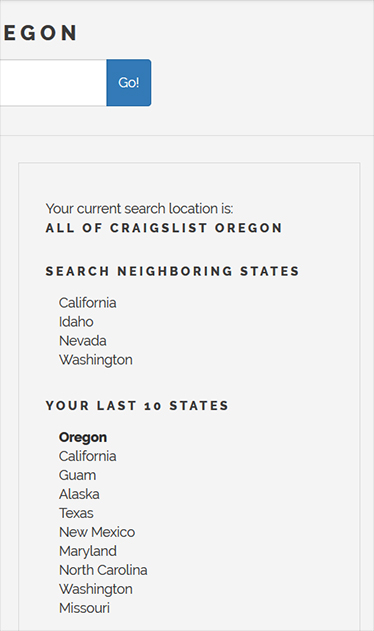 Easy Access to near by states

My other two sites have always had this feature, and now it has been added to this site as well.

I list all of the states that border the state you are currently searching in, and with just one click, you can search any of the states bordering your search location.

You don't have to guess at which state borders the one you are searching in, they are all listed right there for you.

This feature is so useful, I have seen other sites that search craigslist.org add it to their search engine.



Your last 10 search locations

Each time you change your search location, it is saved to "Your Last 10 Locations" list. This list stores your last ten search locations while you are on the site. Once you close your web browser, they are forgotten.

It's never fun to forget where you have already searched on Craigslist, this feature shows you the last ten locations where you have already searched, and just makes an all around better craigslist search experience.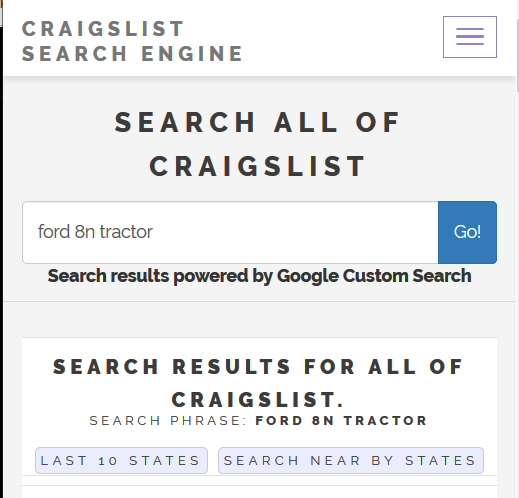 If you are using a mobile device, you will find these two features right above your search results. Click on either of the two blueish buttons to activate that feature on your smart phone.



Smart links

When you change states, territories, or countries on Craigslist Search Engine, and you have entered a search phrase into the search box, all of the links will take you to the proper search results page.

If you are just navigating the site and have not entered a search phrase, then all the links will take you to the proper main page.



Craigslist Search Engine

Craigslist Search Engine's user interface has been completely redesigned to make searching nationwide or by state as effortless as possible.

The new Craigslist Canada Search is something this site has needed for a very long time, and now it is here to help you search Canada like a pro.

The new search engine is tuned like a high performance machine, just waiting for you to take it out for a search.

Each state is tuned to search in that state only, you do not have to be bothered with those annoying other states popping in to dilute your search results. You get exactly what you want, in the area you want to see it.

And like before, if you want to cross to the next state over, simply click on the neighboring state in the list and continue your Craigslist search with just one click.

No more do you have to re-type your search phrase just because you changed states.

Although the best experience with the new Craigslist Search Engine is on a desktop or laptop computer, it is fully mobile device compatible. This site performs very well on any mobile device.

There are more cool new features on the way, I will be adding them over the next few months, so please check back often.

I truly hope you find these upgrades useful, it was a lot of work.

And as always, Thank You for using the Craigslist Search Engine.
David.